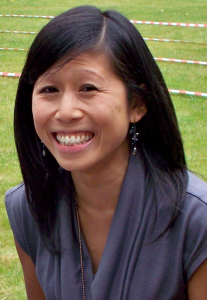 Julia Cheung
Senior Safety Advisor
School of Materials, Faculty of Science & Engineering
Describe your work area and its importance.
The activities in my School vary a great deal: from high-tech biogels, polymer composites and thermomechanics, to traditional weaving and design fashion business.
My job is to help maintain the Health and Safety standard in all these areas.  Health, safety and wellbeing of all personnel are really important to the University. As well as the legal requirement, everyone should be able to go home at the end of the day without anything bad happening. When things go wrong, it often costs a lot of time and resources to rectify it.
On a typical day, what do you spend most of your time on?
The School is spread out between 7 buildings with ~1900 people. So I spend a lot of time advising or problem solving on activities across the sites.  Every single risk assessment that gets submitted is checked by me to ensure they are sufficient – that's the less exciting paperwork!  My School is also moving to the new MECD building in 2020, so I'm helping to plan the building design and operational arrangements.
Describe your career path to date, including highs and lows.
After gaining my degree in Biology from Sheffield, I joined the University as an undergraduate teaching lab technician in the School of Biological Sciences in 2001. After 2 years I moved into research in the Faculty of Life Sciences. This was followed by a promotion into Research Assistant, in which I managed research projects and contributed to publications. During my time in research I contributed to multiple publications, the latest one was accepted in Nature Communications in December 2016, which was great news, considering I left the lab bench some time ago!  I also attended and gave talks at several international conferences. These were great experiences and very beneficial opportunities for someone in a technical role.
I worked in research labs for 12 years, until a period when I was placed under immense and unnecessary work pressure, causing a workplace injury making lab work very difficult. I've always wanted to work in labs and didn't know what my next job could be; the uncertainty made it a very worrying time.  But, leaning on my scientific background, I was able to take a secondment with the Faculty Safety Team, allowing me to gain professional H&S qualifications and valuable experiences, ultimately leading to my current role as a Senior Safety Advisor in the School of Materials in 2015.
What drives you?
– My days are very varied and never boring
– Changing people's perception through persuasion.  I love seeing baby-step changes that lead to big improvements
– My colleagues who are very supportive and fun to work with
– Staff and students who really appreciate my help
Tell us a funny story, work-related or not:
One of the buildings my School occupies is 15 storey high. I once found 2 PhD students on the rooftop, spray-painting metal samples they use in their research. There are no barriers on the rooftop, so it's a sheer drop straight down to the ground if you're not careful. Their excuse: it's a well-ventilated area!
What's the best career advice you've received?
– Take part in the Manchester Gold mentoring scheme!
– Ask for opportunities to try out new job roles, even if t's just a few hours shadowing.
– Be proactive when applying for jobs, use the criteria in the job description as sub-headings to structure the application. This helps to show the relevant skills clearly and increase your chances of being selected.