TEaM celebrates Technical Excellence at Manchester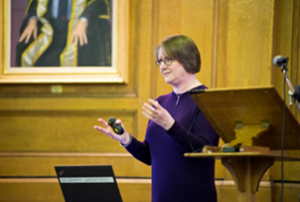 Nearly 200 technical staff gathered together on Monday 12th December to launch a new cross-Faculty technical networking group, TEaM (Technical Excellence at Manchester).  Created by technical staff, for technical staff, the group aims to raise their profile across campus, ensure their contributions to the University are recognised, and empower them to develop their careers.  The initiative is supported by all three Directors of Faculty Operations, as well as Vice-President Colin Bailey, who is the group's Academic Technical Champion.
The event featured presentations from Jonathan Winter, Head of Staff Learning and Development, and Hannah Kowszun, a representative of the Science Council.  Dr. Carol Yates, an academic who began her career as a technician, spoke about the evolving status of the technical career, from 'lab boys' in the 1900s to the more complex role today, and members of the TEaM steering group reported on survey results concerning the challenges technical staff face across the University.  TEaM's promotional video also had its debut, and it can be seen here.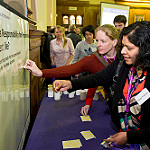 The technical staff were encouraged to network over a buffet lunch and give their opinions at a variety of different discussion stands, including one where they voted on future TEaM events they'd like to see organised, by pipetting fluids into measuring cylinders – this being a technical event, there had to be an opportunity to show technical skills!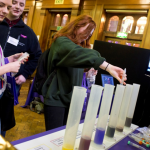 Lisa Grady, one of the TEaM steering group, said "The steering group were thrilled to see so many staff really engage with the group's purpose and look forward to seeing that enthusiasm at our next events in the New Year".  Feedback from staff who attended was very positive, including comments that "…the whole event was an amazing opportunity to get to know different technicians around the university…" and "I feel like TEaM is a great way of showing people what we actually do…"