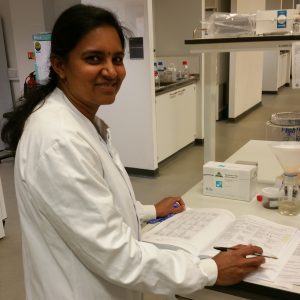 A technician working in the MIB building was recently rewarded by the University's Thank You scheme for the excellence of her record-keeping, and its impact on a patent application.  Anu Balasundaram works for Professor Clare Mills' Molecular Allergology group, preparing and analysing 'challenge meals' for their commercial partner, Reacta Biotech.  Challenge meals are foods containing precise quantities of a known food allergen, e.g. peanut protein, or a placebo.  When administered to people with food allergies in a double blind placebo-controlled food challenge under medical supervision, they can be used to give an accurate food allergy diagnosis.
Reacta Biotech are in the process of applying for a patent in this area and leaned heavily on Anu's lab book to provide evidence to support the application.  Dr. Martin Wickham, Reacta's Commercialisation Manager wrote that Anu's lab book record "provided us with exactly the evidence required, and therefore made my job of progressing the patent, really easy."  He went on to say "I genuinely do not know what we would have done without the laboratory records" and praised their clarity and the speed with which she was able to produce them.
Anu's supervisor, Professor Clare Mills, said "A good lab book is vital for substantiating data and conclusions made in papers, and also in identifying and protecting intellectual property…  Her exemplary lab book, with experiments clearly described, dated and signed off, has been essential in providing documentary evidence to the patent examiner."
As part of its commitment to recognising its staff's achievements, the University rewarded Anu with some gift vouchers under its Thank You Scheme.  Her line manager, Geoff Blunt, said "It's so great to see Anu's hard work and attention to detail being acknowledged and celebrated; it shows her work has real impact and she performs a vital role for the University and its partners."
For more information on the University's Thank You Scheme, and how you can request a card or present for a member of staff who should be acknowledged, please click here.