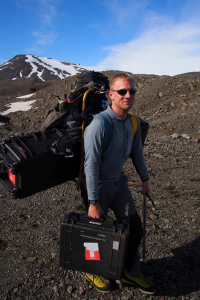 Thomas Bishop
Teaching and Research Technician
Geography Laboratories, School of Environment, Education and Development
Describe your work area and its importance.
I work in the geography laboratories. We cater for students on both taught and research programmes, as well as supporting research staff. I specialise in methods that allow workers to reconstruct past climate conditions from clues left in sediments like peat bogs and lakes, but I'll turn my hand to whatever our lab users are working on.
On a typical day, what do you spend most of your time on?
I usually start the day by preparing analytical equipment that I or a laboratory user will be needing that day. I might begin preparing or analysing samples, or if there is a class in the laboratory I'll set their equipment out and join the class to help out. Occasionally I'll prepare or receive equipment used for field-work, or prepare instructional materials associated with the laboratory equipment and teaching programme.
Describe your career path to date, including highs and lows.
I read for a degree in Geography in Manchester, and took the opportunity of research council funded doctoral study immediately after graduating. I worked for some years on the past 10,000 years of climate change in southernmost South America. Before entering academia I had worked as a technician in photographic processing, theatre and television, so a laboratory technician role suited me when I finished my postgraduate study. I worked at the University of Southampton for some as a field and laboratory technician in the Geography Department there, before moving to Manchester last year.
What drives you?
I enjoy the variety of roles I fulfil – specialist technical and analytical work, undergraduate teaching, field-work, and more. Even the research work is varied – sometimes I might work on environmental pollutants, in archaeological contexts, on archives of past climate change, or sand dune formation in Africa. I've travelled the world in my short career, working in cold Patagonia, the Alps and Iceland, to tropical Vanuatu and Cambodia, and much in-between. I've got involved in outreach work which has hugely advanced my ability to teach and communicate my work. I believe that universities should be models of good practice and excellence, both so we can excel in research and our students gain the most from their time at university. I'm always looking for ways to improve and advance what we offer.
Tell us a funny story, work-related or not:
Whilst rounding-up a large group of students for a field-trip, in my enthusiasm for the task I accidently encouraged a passing tourist into the waiting coach. It was only en-route did the confused visitor ask whether this bus would meet up with "the others" at the bottom of the mountain. We had to turn around and take her back. Worst still, in a desperate attempt to distract her from my mistake, I talked at length about the "interesting" geological and geographical features along the journey!
What's the best career advice you've received?
I was told that in academia, moving around and being exposed to different ways of working, institutional cultures, and ideas is good for personal development. I've created opportunities to be seconded to several laboratories around the country and although I'm early in my career, these experiences have been hugely beneficial in quickly building my skillset.