Glassblower
Scientific Glass Department, School of Chemistry, Faculty of Science & Engineering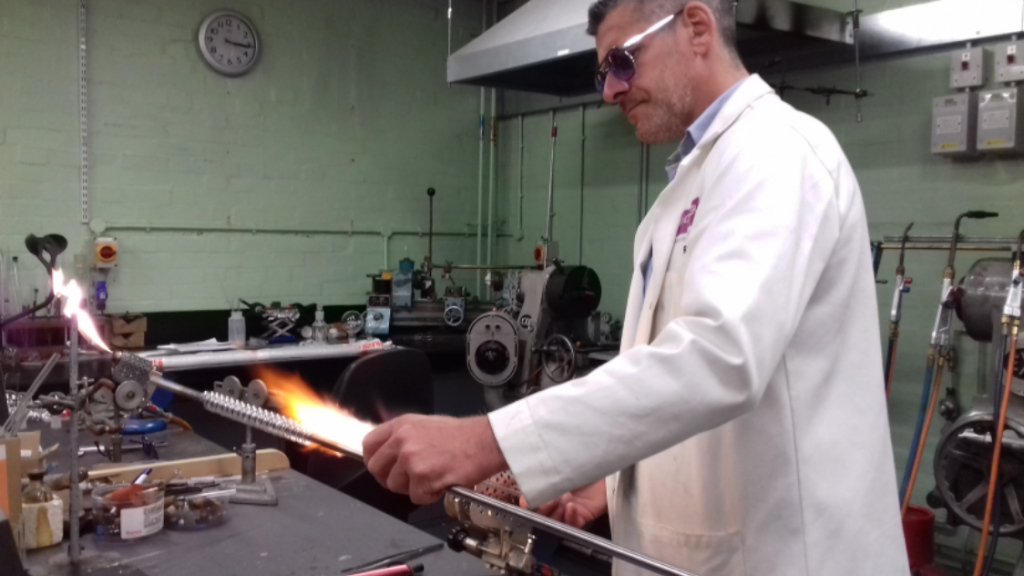 The Glassblowing workshop we have located in the chemistry building isn't what most people's idea of a glassblowing workshop might be. We don't for example, make our own glass on site, we don't pull glass either direct from a furnace like conventional glassblowers do.
Our workshop resembles more of an engineering workshop type environment , we have a varied selection of tools that we use to work with glass. We work with pre-formed glass tubing in different diameter's , for larger diameter glass we have glass working lathes that we use to essentially turn the glass for us while we melt and shape the glass.
We also have bench mounted glassworking torches that we use for apparatus that can be manufactured on the bench.
We use a selection of carbon formers and paddles to shape and form the glass into specific shape's , We use Carbon/ Graphite tools because they can withstand high temperature's without sticking to the molten glass surface .  Carbon can be easily cut and shaped into specific shapes or profiles this also benefits us as we have to manufacture our own tools for specific jobs. Being able to make your own tools is an important part of being a scientific glassblower, while there are numerous standard techniques we use day to day, we have to be able to adapt and have the ability to create tools specific to one off jobs or specialist apparatus.
We also have cold working equipment in the workshop, a glass diamond cutting disc saw that we use for cold cutting of glass and a glass lapping wheel that is mainly used for creating a ground finished surface on flanges .
In terms of importance, the Glassblowing workshop is an incredibly important part of any Science based University.
The work we do is so varied and complex to cover here but perhaps the most an important factor to consider is that of time.
If you are 2/3rds of the way through doing a PhD for example and require a complicated and bespoke reaction system building then you simply do not have time to go to an outside private company to build it for you. Due to the complexities involved to certain research projects, its simply not a feasible as nearly 90% of the time things need to be tweaked or modified in some way . Therefore it is very important that we are able to work with face to face with people on specific projects. Another point to consider is that not every student knows the limits or limitations, or indeed what they actually need. So it's important that we can work with them to build system that works for them specifically. Building bespoke apparatus can be very time consuming for both myself and the person who requires it. So it's essential that they can have access to the service we provide.
Describe what a typical working day would involve
A typical working day starts at 7:30am. It is not easy to say what a typical day involves because the work we do is so varied, it is very unlikely that we have 2 days the same.
Of course we do have a general workload of standard lab apparatus that we manufacture and repair and we also build a lot of Schlenk  line vacuum systems as well as a sample sealing service.
Also part of my day involves dealing with enquires and responding to emails, calls etc.
What qualifications are required for becoming a Glassblower?
Generally a good standard of education in science based subjects, however its more important to have to have the right attitude in my opinion. It's a long process and although a grounding in science is a good start, most of the work we do requires an ability to learn hand's on. You cannot learn to become a glassblower in a classroom.
How long would it take to train an apprentice to becoming fully qualified in this field?
The standard apprenticeship term is 5 years. This has been the standard for many years through the British Society of Scientific Glassblowers.
Generally it takes 5 years to become competent and 10 years to reach the point where you are able to sit your master craftsman's examination.
One unfortunate aspect of our profession is that there are no formal training opportunities available in the UK to train a Glassblower, so even if you wanted to learn to become a Scientific glassblower there simply isn't any avenues for you to do this. I believe there is a training school in France and another in the US but as yet non in the UK. We are very much on the endangered species list.
What are the highs and lows of the job?
I always get satisfaction from the fact that I have produced something that could have at least helped in some way to real advances in sciences, whether that's from an environmental perspective through waste water management, hydrogen fuel cell technology or to advances in cancer research. The list is endless. There are many high points to being in this field and its always great when you get feedback and appreciation from the people you work with on projects.
Low points, not many really. It can be frustrating at times when you have spent 2 hours working on a complex piece of apparatus only to have it crack on you at the last min but that's is the nature of the material and the battle we as glassblowers have to deal with and overcome . Ive been glassblowing nearly 30 years and it still goes wrong from time to time.  You never stop learning in this field.
This is a niche area, and requires very specialist skills, what would you say to someone who might be interested in becoming a Glassblower?
I would say great! Unfortunately and sadly this unless one can persuade a private company to train them for 5 years with the hope of a position at the end of it is simply not available.
We at the British Society are trying to address these issues and have been for some time, the government are aware of the situation and the decline in our field but unless certain action is taken then I believe it's only a matter of time before we as a Society disappear forever.
I have been approached by 2 people since taking up my post here 2 years ago (one a chemistry undergrad) absolutely desperate to become a glassblower, it's a little disheartening to inform them that its not something we offer but perhaps we may in the future.