Multimedia Technician
Geography, School of Environment, Education and Development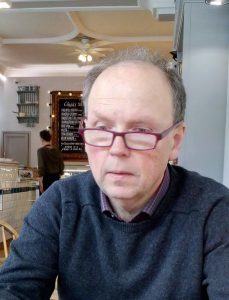 Describe your work area and its importance.
Multimedia Technician working in SEED, based in Ellen Wilkinson Building 4 days and 1 day Humanities Bridgeford Street. There are around 30 teaching spaces with a variety of AV equipment installed. I spend quite a bit of time looking after these rooms, making sure everything is working as it should be.
On a typical day, what do you spend most of your time on?
The job is quite varied, there's lots of portable AV equipment, which needs to be managed, loaned out etc. I could be out at a school videoing a PGCE trainee or a teacher, or videoing at a conference or in the office video editing. I also take quite a few photographs for use on our web pages.
Describe your career path to date, including highs and lows.
I started out as an apprentice commercial vehicle body builder for a company, which has long since gone, called Manchester Garages. After completing my apprenticeship I returned to college full time for 2 years to study AV design. I then went on to work at the Manchester College as an AV technician, I stayed there in the art department for 21 years before joining the university in 2006.
What drives you?
I know I drive a Rover 75, but I've never been quite sure what's driving me!
Tell us a funny story, work-related or not:
There is one involving my wife and a telephone kiosk in Cornwall and that's all I'll say, just in case she sees this.
What's the best career advice you've received?
Now let me think……………………..