**update: Nicola went on to win the individual Distinguished Award at the whole-University level.**
Faculties and all individual members of staff are invited annually to nominate colleagues for a Professional Support Services, Library and Cultural Institutions' Distinguished Achievement Award.
The 2017 Winner is Nicola Begley, FBMH (Pictured below being presented the award by Professor Ian Greer. Congratulations!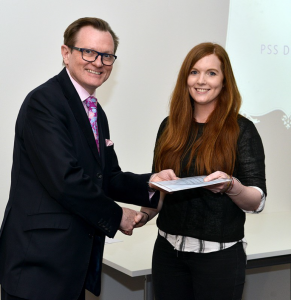 Here is an excerpt from Professor Andrew Loudon's interview on his winning nominee.
What made you nominate Nicola?
Nicola is a natural born leader. She works in a large busy environment with many conflicting pressures on her time, and carries considerable responsibility, in terms of financial and legal and regulatory. The presence of an experienced efficient support-staff leader is a necessary common feature in all large successful laboratories world-wide. Put simply, laboratories such as ours cannot operate without such support. Post-graduate and post-doctoral staff are of necessity short-term employees, so experienced support staff are the essential long-term glue that holds the team together.
Why do you think it is appropriate to have these awards?
Yes, it is very important. The support staff in the faculty are often the un-sung heroes of our science, and are critical to our operation across the board. We are very fortunate to have such a well-run operation at Manchester, from the core facilities to individual laboratories.
Here are a few words from Nicola.
Could you provide a very brief history of your career here at Manchester ?
I started working at the University in 2011 as a Research Technician for Dr. Julie Gibbs in Prof. Andrew Loudon's lab.  I have remained in the Loudon lab where my role has developed to not only provide technical support but to also provide transgenic research programme management for multiple labs across the FBMH.
What does the achievement award mean to you?
I feel extremely grateful to have received the award.  I am very lucky to work with such supportive PI's and colleagues and the nomination alone reinforced this support.  Winning the award reiterated how I feel day to day which is greatly appreciated for the work that I do.
What would you say is your greatest achievement since starting at the University & what are your plans for the future?
My greatest achievement was in being a middle author on an article in Nature medicine. This represented the culmination of 4 years work on a research programme into circadian control of inflammation which I was heavily involved in and supported the over research effort. To me this shows the importance of my work and role in research. In the future I hope to develop in my career, particularly in a research management role.
Runners up include:  Neil O'Hara (research technician) and Anthony Steel  (technical manager) FBMH. Well done!  Read Neil's interview here and Anthony's here.