TEaM workplace tours continue to be a hit.
In Early February over 50 Technical staff from across the university attended a BSF Facility tour. The tour highlighted the varied and diverse research that's taking place and the staff gave some very interesting background and information into the research and the facility. The Technical staff who attended the tour got a full tour of the facility. Thanks to all the staff from the BSF for giving such an interesting and informative tour.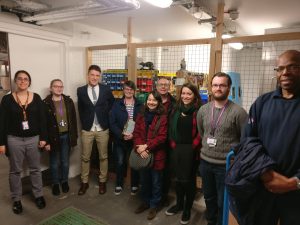 The Whitworth Art Gallery has recently undergone a £15 million development programme seeing it double in size and embrace Whitworth Park; with the inclusion of the landscape gallery, learning studio and the café in the trees. On the morning of 24rd March 2017, Dean Whiteside, Buildings and Operations Manager, gave the opportunity to TEaM members to have access to an 'exclusive' behind the scenes tour of this wonderful transformation. (Pictured)
On 23rd March 2017, members of TEaM had the opportunity to attend a behind the scenes tour of Manchester Museum. Individuals saw many archived items, such as: spears, knives and ceremonial clothing; they also got to find out about preservation and restoration, the importance of pest control in the museum collections, display mounting to the actual logistics involved in obtaining  artefacts for the museum, such as the massive Easter Island statue and the reinforced floor!