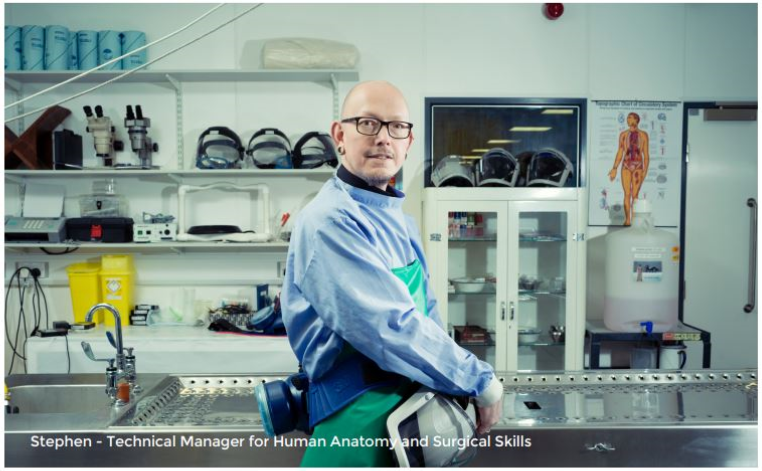 The Gatsby Charitable Foundation launched the Technicians Make It Happen (TMiH) campaign in March 2016. http://www.gatsby.org.uk/education/latest/technicians-make-it-happen-launch
It started as a gallery exhibition, which now tours around the country (particularly at education conferences) and has a campaign website http://technicians.org.uk/.
The message: The demand for technicians is growing. Their diverse skills are critical to the UK's performance in the global business arena. Yet we face a growing skills shortfall. By training to be a technician, you could work for some of the top employers across the UK. And with opportunities available right now in an incredible range of exciting sectors including music, gaming, aerospace, film, automotive, fashion and more, there has never been a better time to become a technician. Make it happen.
There are many and varied technician stories on the TMiH website: http://technicians.org.uk/technician-stories/. It seemed that The University of Manchester would have some interesting technical stories to offer to the campaign.
Working with various individuals across all three faculties, some suitable technical roles were identified. Having willing participants, in November 2017 I submitted four "technician stories" to the campaign for consideration. The campaign organisers were so impressed with our range of technical staff they decided to come and meet with them all. In February 2018 Lauren Golding (Communications Officer, Gatsby) came along with a camera crew to meet with the technicians. This visit allowed Lauren to get a real sense of each of their stories: understanding their background, how they came to be in their technical role and why they do it. Being a very visual campaign, they were pleased to find such photogenic faces and work spaces. The technical case studies are designed to feature on the TMiH website and on social media.
The first of our case studies went live on Friday 25th May, and it looks fantastic! You can read more about Stephen Lindsay-Smith (Mortuary Technical Manager, FBMH) on the website: http://technicians.org.uk/technicians/stephen/
Throughout June and July the campaign organisers are hoping to feature the other three case studies on their website. So keep an eye out for Claire Fuzipeg (Electronics Technician, FSE), Thomas Bishop (Laboratory Technician, Humanities) and Dominika Knych (Analytical Chemistry Technician, FBMH) in the coming months.
I'm very pleased that each of the Faculties has been supportive about contributing to this campaign. It is a great demonstration of our Technician Commitment within The University of Manchester.
Author: Cassandra Hodgkinson (Technical Operations Manager, FBMH)