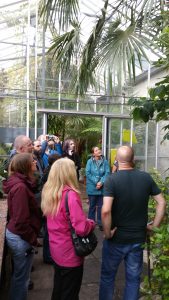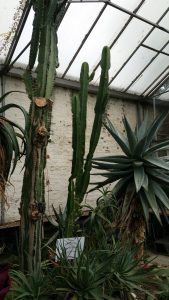 The Firs Botanical Grounds are tucked away between Owens Park and the Armitage Sports Centre in Fallowfield, on land that previously formed part of Joseph Whitworth's estate – the house of the estate is now known as Chancellors, but Whitworth had a long brick firing range on the grounds, and part of this was converted into greenhouses.  Further greenhouses have since been built on the site, as well as a specialist section for mosses and ferns.
The two tours were led by David Grantham, who has worked as the technician and effective manager of the site since 2009.  It was amazing how many plants from different parts of the world could be made to grow and even fruit using relatively modest amounts of heat and humidity.  A range of different experiments were in progress, as well as mass plant propagation for use both in experiments on main campus and for outreach projects elsewhere.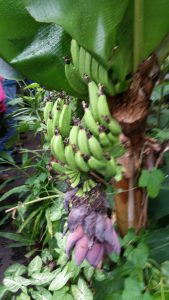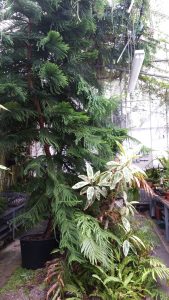 Through a programme of plant exchange with other institutions and with the various volunteer groups that help maintain the Firs,  the range of plants housed there has been increased over the years.  Banana plants, ginger, tea and coffee grew next door to giant (and toxic) euphorbia cacti and delicate Norfolk Island pines.
The greenhouses themselves are very vulnerable to both the weather and damage from the plants growing up inside, so it is a constant battle to keep the plants alive, but cut them back and contain their growth, particularly the cacti which grow much faster than in their arid native conditions.
Alongside all of the larger plants, David is also experimenting with propagating large quantities of seedum for potential use as green roofing material, and looks after a number of Venus fly-trap plants, which will be sent off to be prodded and poked by schoolchildren as part of the University's Widening Participation programme.